---
Starting Out With Trade Navigator
We see that you have recently started a trial of our TradeNavigator software and we wanted to help ease the learning curve by pointing you to some videos that might prove useful and allow you to hit the ground running.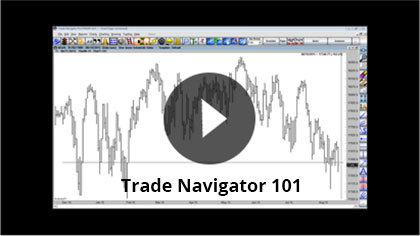 Above is the TN101 video that covers the basics of using the software. It is about 40 minutes long and is a great place to start learning the software. Since we are using Amazon Web Services, you may need to download the file and run it from your hard drive in order to watch the entire video.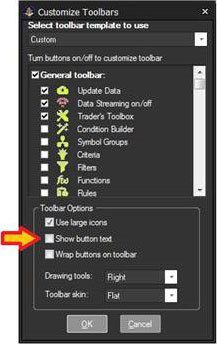 The video has been made in the 'Classic' theme, so the icons on the toolbar buttons will only match Classic, Chrome, and iChrome. If you would like to keep this theme and add text to your toolbar buttons, select 'Edit' and then 'Customize Toolbars' from the dropdown menu in the upper left of the software. At the bottom of the window, you can place a check in the box for 'Show Button text.' That should make it easier to follow the video.
---
Ready For More?
When you are ready to dive deeper, you can find additional videos and manuals on our website. You can easily locate this by clicking on 'Help' in TradeNavigator and selecting them from the drop-down menu.
Let us know if there are other features of the software that interest you, but are not covered by the videos on our website. We can see if there are videos to cover them too. (We many need to upload them to Dropbox.)
---
1-On-1 Training
Once you have reviewed the TN101 video, you can also schedule a 1-on-1 coaching session with one of our trainers so you can learn even more about the software. Sessions are 45 minutes in length and can be scheduled by contacting technical support:
Phone: 719-884-0245
Click Hereto Chat Online

Monday - Friday: 6:00am - 6:00pm MST
Click Here For Our Current Time
If you have issues setting up the software, or have just a quick question, then technical support can assist you without setting up a coaching session.